Micro grants… For some, it could sound unserious. But when your life changes so sharply and so irreversibly that you lose all "starting points" you were used to and realize that you can count only on yourself, even small help may give power and inspiration. Our today's story is about three IDPs. They received grants from the program "Raising the level of education, employment and social integration of youths in the areas of Georgia and Ukraine affected by a conflict" (EU4Youth), implemented in the Donetsk Oblast by Danish Refugee Council – Danish Demining Group (DRC-DDG) in the partnership with Mariupol Youth Union thanks to financial support from the European Union.
Inna Darahan's story
When fighting broke out in Donetsk, Inna didn't think long and didn't try to convince herself that everything will be over soon. She was waiting for a child, and did not have the right to expose herself or her future son to a risk. Therefore, she immediately packed up and went to Maksymilianivka to stay with her parents.
It wasn't easy, but a qualified nurse with 12 years of experience in massage therapy will always find a job everywhere, even in a small village.
"My most important instrument is my hands, and they are always with me," Inna laughs.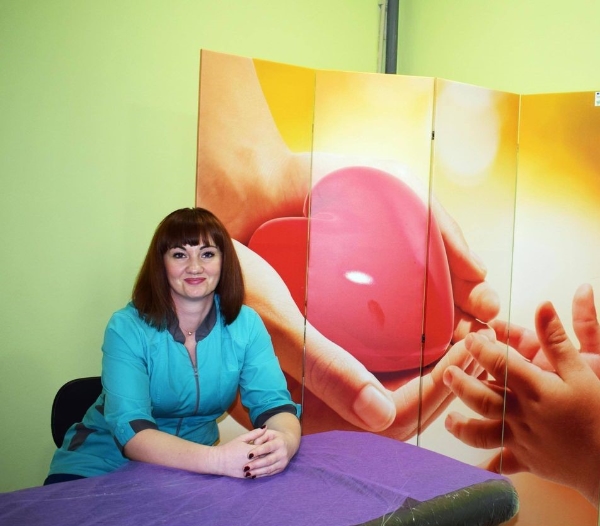 Maksymilianivka has the population of over three thousand, and many of them need regular services of an experienced masseuse. Inna started to work almost immediately after the childbirth. At first, she was visiting patients at home. Later on, when her child became older, she leased a room in an outpatient establishment and opened a massage office there.
But the equipment she had was not enough. Inna dreamed about buying a good table, a privacy screen, and also, a small gymnastics complex for sessions with children of various ages. Alas, as it's often the case, allocating money for that from her small earnings was impossible.
Therefore, when Inna learned about the opportunity to receive a business development grant under EU4Youth program, she didn't hesitate for a long and applied for it, and several weeks later, her office was equipped with everything necessary.
The expanded range of services brought with it an increase in the number of patients. Inna received visitors from not only Maksymilianivka but also from Mariinka, Krasnohorivka, Kurakhovo and many other villages. She now had enough clients, especially since Inna was working with people of any age.
Inna teaches the parents of newborn children the basics of massage and strengthening gymnastics. She also selects a course of corrective massage for those who have problems with health. Flat feet, scoliosis, recovery after injuries…
In adults, the list of disorders and problems necessitating a massage is even longer, starting from traditional problems with lumbar and ending with comprehensive treatment of hypertension, which is often caused by changes in the cervico-occipital area.
Most people undergo courses of 10-12 sessions, which produce stable results. There could be 8-10 patients like that every month, and therefore, Inna works almost without a break.
Like all other specialists, Inna is continuously learning and improving her professional skills. Recently, she completed a course in kinesiology taping: a physiotherapeutic method of attaching special elastic cotton tapes to the human body. This technique could be applied either independently or in addition to a traditional massage.
Viacheslav Molchanov's story
Like many other young people, Viacheslav Molchanov regularly visited a gym to work out with dumbbells and a barbell. And he always regretted that he can't make at least a small room at home with a weight training bench and racks for a barbell.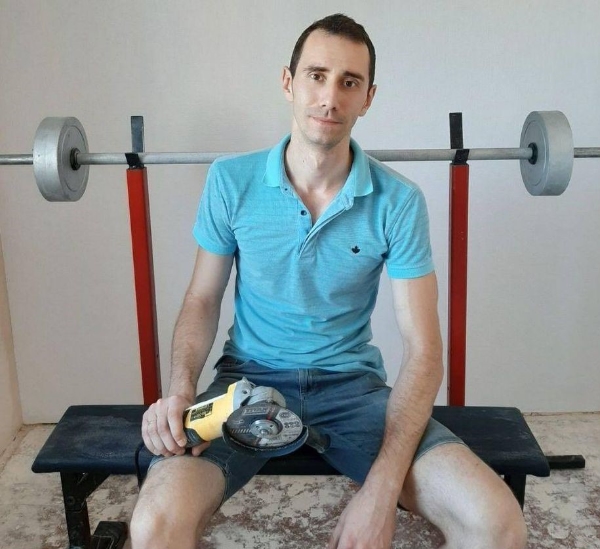 Unfortunately, he did not have money to buy the equipment, but at some point an idea struck his mind: "Why not making it myself?"
Together with a friend, he went to a scrapyard, bought the right tubes and racks for a very small amount of money, and literally assembled a bench and racks in a garage.
"I paid approximately 150-200 hryvnias for everything, including paint!" Viacheslav says.
After that, he was making exercise equipment for friends and relatives, not even thinking that in the future, it will become his trade.
Serious changes had to be made in his plans for the future when he was diagnosed with multiple sclerosis, a serious neurological disease which cannot be treated but can only be controlled. Viacheslav was lucky back then: he was included to a group of volunteers who participated in clinical testing and received experimental treatment. The disease went into chronic form without aggravations, which meant that he could live a normal life and even work at the railroad. It was important, though, to exclude heavy physical loads and stay in good physical shape. For that, the exercise equipment he made himself became very handy.
After the outbreak of armed conflict, Horlivka became a dangerous place. In addition, Viacheslav had to regularly travel to Kharkiv for treatment. These considerations prompted him to move to Lyman.
In the new place, he met his wife and launched an own business. "I had several ideas, for example, a fishing gear and tackle store. But neither was very inspiring. And suddenly, it dawned upon me: what if I try to do what I have already done before?" Viacheslav says.
He monitored websites and advertisements of people selling exercise equipment, checked the prices for metal, and realized that it would pay itself off. However, he did not have the right tools. Even when he was making racks and benches in Horlivka, every time he had to borrow tools from friends. And in the new place, he could not do even that.
"I accidentally came across an ad about EU4Youth grant program on one of the city's websites, and decided to give it a try," he says.
Viacheslav described in detail the idea of his business and the tools he needed; his application was approved, and that allowed him to buy the necessary equipment. He buys metal in a scrapyard, assembles racks and benches in a garage, and paints them in the colors the customer wants.
"I post information about equipment on a free advertising website. The price I charge is slightly lower than competitors', because today, even 100 hryvnias make the difference for people. I am very happy that I decided to participate in this program. For now, I have a trade which I like very much and which helps people stay in good shape," Viacheslav says.
Mykhailo Savchenko's story
For more than ten years, Mykhailo worked at the city's gas supply company in Sloviansk. He was checking whether gas-fired equipment, such as stoves, water heaters and boilers, is connected and operated correctly, helping set up the equipment and consulting its owners on how to operate their equipment safely.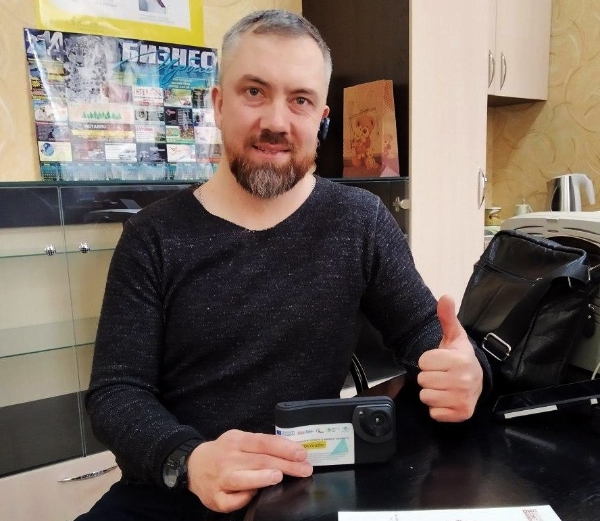 Mykhailo graduated from the National Institute of Aviation with a specialist's degree in energy management, i.e., rational use of energy. The task of specialists in this field is to identify all possible ways of energy wasting and optimize equipment's operation based on the task at hand, for example, to reduce fuel consumption or maintain a certain temperature.
While at work, Mykhailo often had to answer the question: "Why is the gas consumption rate so high? How to reduce it? And where does heat go?" Therefore, energy management skills were simply indispensable for him.
His quiet course of life came to an abrupt end in 2014, when Mykhailo and his family had to leave Sloviansk. While they were away, their apartment was damaged by artillery fire. "Missile fragments broke windows in our dining room and kitchen, and damaged furniture. I can't even imagine what could happen if someone were at home at that time," Mykhailo says.
He returned to Sloviansk when the government regained control over the city. Gradually, life returned to the former rhythm.
With the gas price rising, people often ask Mykhailo: "How to reduce gas consumption?" While gas was cheap, people didn't care much about how efficient a water boiler is, but when it began to hit the family budget hard, many started to think about it. Then, Mykhailo decided to help people save money and even made it his business. He bought an infrared camera and began providing energy audit services to residents of Sloviansk.
The only thing, though, was that this device costs a bundle and Mykhailo had no spare funds which he could painlessly invest in its purchase.
Therefore, he happily took advantage of the opportunity to apply for a grant from EU4Youth. And it wasn't a mistake: several weeks later, he was already unpacking and testing an infrared camera.
To find his first customers, he published an advert of energy audit service on the city's websites, and soon thereafter, he began visiting customer premises.
Using a thermal imager, Mykhailo can spot the places of heat loss: hidden cracks, sources of cold draught, cold bridges; find pipes closed by drywall or tiles, find water leaks, and even check a circuit breaker panel. If a certain contact is heating, in may become the reason for inflammation in the future. Finding a problematic contact manually is not possible, but with an infrared camera, Mykhailo can do it in a minute.
Energy audit of apartments and private homes remains his main business. Based on the energy audit results, Mykhailo provides recommendations about what needs to be done to reduce gas consumption.
"If all losses are eliminated and equipment set up the right way, gas consumption can be reduced by almost 50%, and that's a substantial saving!" he says. "I remember the instance when a man called me from another city. The workers who were installing a "warm floor" heating system accidentally broke a pipe but didn't notice that and closed everything up as it was. When the owner turned the system on, he saw a water leak and started to look for the rupture. He has already taken tiles off in another room but didn't find the rupture there, and only after that did he call me. Using a thermal imager, I was able to find the rupture quickly."
Presently, Mykhailo is preparing for the start of a new heating season and requests related to it. Soon, he'll be helping people again make their homes warmer and more comfortable.
By Kateryna Steinberg, Mariupol Youth Union CSO
Source: Ostrov