The modern opera "Penita" differs from others in that it is based on true stories of four women serving life sentences in the Kachanivka correctional colony in Kharkiv. The opera draws attention to the problems of the penitentiary system of Ukraine, in particular to the absence of parole for those sentenced for life, as in European countries, and lack of correction of judicial errors. "Penita" has already been staged in Kyiv, Odesa, Dnipro and Kharkiv. This opera is part of the EU-funded social project "Vitally Important" under the Culture Bridges programme.
Today, contemporary Ukrainian opera is trendy. The tone was set by Vlad Troitsky's Nova Opera written together with the composer tandem of Roman Hryhoriv and Illia Razumeiko: as many as eight new operas (more or less successful) were staged under this brand during the past few years, and one of which, IYOV, received this year's Shevchenko Prize. During the current season, operas by Ukrainian composers premiered in Lviv, Kharkiv and Poland's Poznań.
And finally, Penita, composed by Zoltán Almásy to a libretto by Tetiana Kytsenko, came out last year. Amid the majority of new operas with their mostly literary plots, Penita is distinguishable for its documentary basis. It is about four women serving life in Kachanivska penal colony No 54 in Kharkiv. The opera was shown in four cities (Kyiv, Odesa, Dnipro and Kharkiv), and it was included to the repertoire of Kyiv Operetta Theater's experimental Stage 77.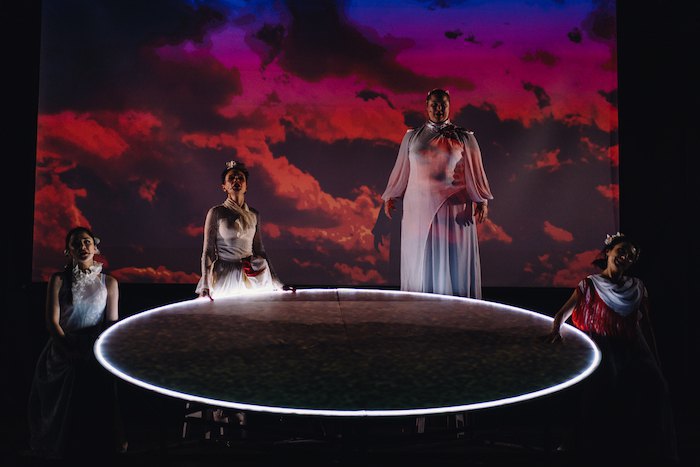 Penita is a part of the social project Important for Lifetime (funded by the European Union under Culture Bridges program), aimed to draw public attention to problems of the Ukrainian penitentiary system (the word "penitentiary" is derived from Latin "paenitentia", meaning "repentance"). Our country does not have the practice of paroling persons sentenced to life in prison, like they do in European countries, and does not have a mechanism of revising judicial errors (according to statistical data, almost 4% of lifers across the world were wrongfully sentenced). One block of this project (scientific conferences, round tables, presentations) appealed to the professional community of human rights activists in the attempt to make things move at legislative level, and the other two blocks – Rusia Aseieva's photo exhibition and the opera itself – appeal to the feelings and emotions of the broad public. Therefore, besides documentary basis Penita is distinguishable for its social acuteness.
The prototypes of the opera's main characters – Kateryna Shchuka, 37, Maryna Hovor, 39, Lilia Chyzhyk, 40, and Iryna Radosiuk, 62 – become the parties of a string quarter: Good Violin, Bad Violin, Viola and Violoncello. Another string quarter, this time real (in one of the first performances in Kyiv, it was Levko Revutsky Quartet), sits on the upper left site of the stage on a portal, accompanying the play from the beginning till the end. The musicians personify another "character": the crowd, shouting moralizing comments. It produces the crooked mirror effect: the convicts are shown not the way they are "in reality"; we see them from the society's perspective. Perhaps that's why they are devoid of names and individualities, squeezed into stereotyped characters: "emotional Assyrian" (Lee Berlinska), "the most timid of convicts" (Viktoria Romashko), a sort of a "thunder broad" with 38 years of experience behind bars (Tetiana Lavska), and "sharp as a steel trap" (Asya Sereda). The former two speak in more or less pure Ukrainian, the third one in Russian, and the latter in a macaronic language.
The libretto mentions, at plot level, the "eternal" mythological images of Medea, Cassiopeia and fairy-tale Rapunzel, but in the stage play they almost never appear. On the other hand, the play's director Maksym Holenko places an emphasis on the stereotypy of the characters, showing them as rude, insolent and uneducated women. From that point of view, the most convincing is Tetiana Lavska's character: a typical female convict, obnoxious, restless, cynical, loudly laughing and smoking, shouting in the episode of fight with characteristic intonation: "Come over here, you bitch!" (which, by the way, isn't in Kytsenko's libretto).
The main plotline is formed with the stories of life of four convicts. Dialogues are built to "fit" inside monologues: the characters take turns to tell their stories, interrupting the tale to let the next character speak. The women seem not to hear each other, each living in her own world, her own memories. Therefore, instead of a separate personal story the most important thing here is a certain collective plot as a macro-metaphor of an utter human woe, pain and suffering.
According to the plot, all four characters were victimized by men. In the story of rape, the woman – victim of male violence – kills her rapists; other stories are about a woman "set up" by a man, or about a woman's self-sacrifice "for the sake of love" (when a man who committed a murder forces his wife to share the participation in a crime: "You and me are in the same boat!"). In a world where men hold power and women sacrifice themselves for men and then serve life in prison because of that, the Song About a Toothed Vagina sounds sarcastically.
There is no male party here at all, but we see on the stage a caricature man wearing tights and a balaclava, holding a bucket of sort and with knives stubbed in his back, whose presence illustrates "men's episodes" of the women's stories. A pantomime in the person of Maksym Bulgakov brings an element of clownery and travesty into the opera with a criminal plot.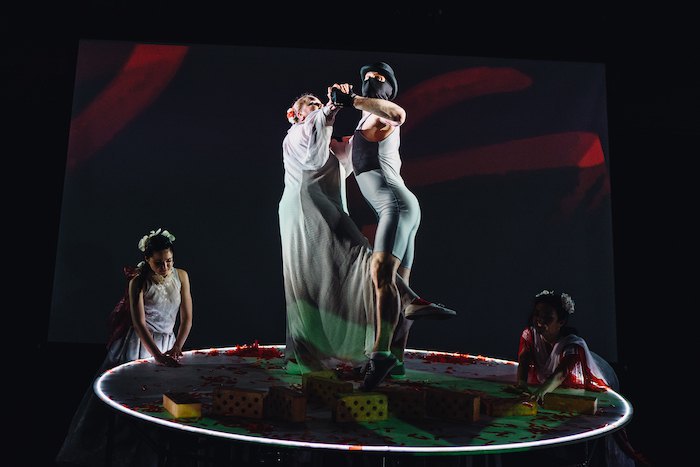 One would think that the justice system should not divide people based on the gender principle, and in this context, the play about women somewhat narrows down, localizes the problem. However, this "right symmetry" is debunked by one of the most dramatic episodes of the play, a tale about pregnancy of one of the convicts: once every two months, convicts are allowed see their close ones in a separate room. However, this story ended with a miscarriage ("children aren't allowed to be here!"). This episode is the most important argument in favor of "female projection" in the problem of life sentence.
Penita fits, on the one hand, into the context of various "criminal operas" (starting with Georges Bizet's Carmen, which to a certain degree is not as much an opera as an operetta), and on the other hand, into traditions of humanistic art. But while Dostoyevsky, Sartre and Camus stressed upon the inadmissibility of capital punishment, Kytsenko-Almásy go beyond that and question the very institute of life imprisonment. One character maintains that she did not kill, another says that "when I was beating them, they already were simply bodies", the third one claims that it was self-defense, and the last one places an emphasis on her mental problems.
And if there is no crime, the very idea of repentance sounds absurd – the convicts don't know what they should repent:
"Violoncello: What if we indeed repent?
Good Violin: Repent what?
We could go without clarifying."
This dialogue refers to Samuel Beckett (Waiting for Godot).
The play's symbolic code is quite clear: the action on the stage unfolds around a white circle, which invokes certain associations (vicious circle, no way out), with red confetti strewn all over it (red color as a symbol of blood). And in the finale, all four characters take off their white dresses (white color as a symbol of innocence) and remain only in underwear, denuding their vulnerability.
This opera is not as much about the penitentiary system and what it does to people as about what we, the society, do to these people, sentencing them to prison, dominating over them without thinking and not wanting to know anything about their life. But life does exist behind bars as well, as the authors are trying to show.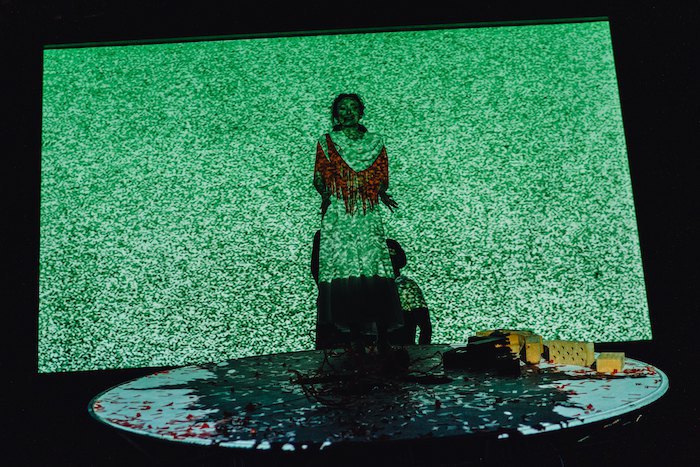 We are already used to the fact that contemporary opera is flirting with mass culture, representing a sort of a mix and containing a certain portion of trash. Instead of classical arias, Penita has chanson and prison songs, a marching song from the repertoire of pioneer camps, Ukrainian pop music of the 1990s, urban romance, spiritual chant in the style of modern Protestant religious songs, and rap instead of recitatives. In a word, a cocktail of everything in the world and not without irony and blatant farce, and Zoltán Almásy is a master of stylization. Nevertheless, Penita may be called an opera only conditionally, despite the presence of formal hallmarks of this genre. Firstly, the secondary role of singing: numerous talk scenes take center stage here. In addition, we hear the signing of drama actresses (not vocalists), which brings Penita closer to vaudeville, cabaret, kapustnik or KVN, but as far as opera singing is concerned, it has nothing to do with it. As for the baboonery, juggling and "belly" sounds – all that looks rather like a parody of singing.
Secondly, a classical opera as a high genre and an elite art envisages a "high" plot, not lowly one as in this case.
To make it short, it was very symbolic that this play found its way to the repertoire of an operetta theater: surprisingly light and even "jolly", it is quite conformant with the entertaining and comedic nature of this genre, a "low" subgenre of opera, so to speak. And although Almásy wrote his first opera as an "opera", it is fair to say that it turned out to be an operetta of sort, or perhaps a "new operetta".
By Olesia Naidiuk
Source: LB.ua