FinancEast, a program providing financing to investment projects of micro, small and medium-sized enterprises (MSMEs) in the Ukrainian government-controlled territory of the Donetsk and Luhansk Oblasts, was launched in Ukraine in December 2019.
The program offers a refund of up to 50% of the amount of MSME investments related to the lease or financed purchase of agricultural machinery, equipment, motor vehicles, etc., or to installation, construction or reconstruction of facilities.
"Today, the Donetsk and Luhansk Oblasts need help and investments for sustainable economic and social recovery as never before," EU Ambassador Matti Maasikas, Head of the EU Delegation to Ukraine, says. "There has been a good start already: since the beginning of this year, FinancEast, a EU4Business program, financed almost 120 investment projects of micro and small enterprises."
As of July 2020, this program provided financing to 118 MSME investment projects worth the total of UAH 512.7 million. The European Union provided UAH 209.1 million in financial support to MSMEs for these projects in the form of subsidies and refunds to compensate the cost of investments.
58% of all investment projects were from MSMEs in the Luhansk Oblast, and 42% from enterprises in the Donetsk Oblast.
FinancEast program is implemented by the Entrepreneurship Development Fund under the "European Union support for the East of Ukraine" project and EU4Business initiative. The program's major partners are OTP Leasing LLC, Savings Bank JSC and Ukrgazbank.
"We realize how important economic growth in the Donbas region is," Andrii Martemianov, FinancEast Program Coordinator, says. "The Ukrainian government-controlled territory of the Donetsk and Luhansk Oblasts sustained significant economic losses, and therefore, our goal is to restore the investment attractiveness of this region. That's why we initiated implementation of FinancEast program. The number of applications we received and the number of MSME investment projects we already financed prove that during the first few months of this program it became an important component of the process of economic recovery in the Donbas."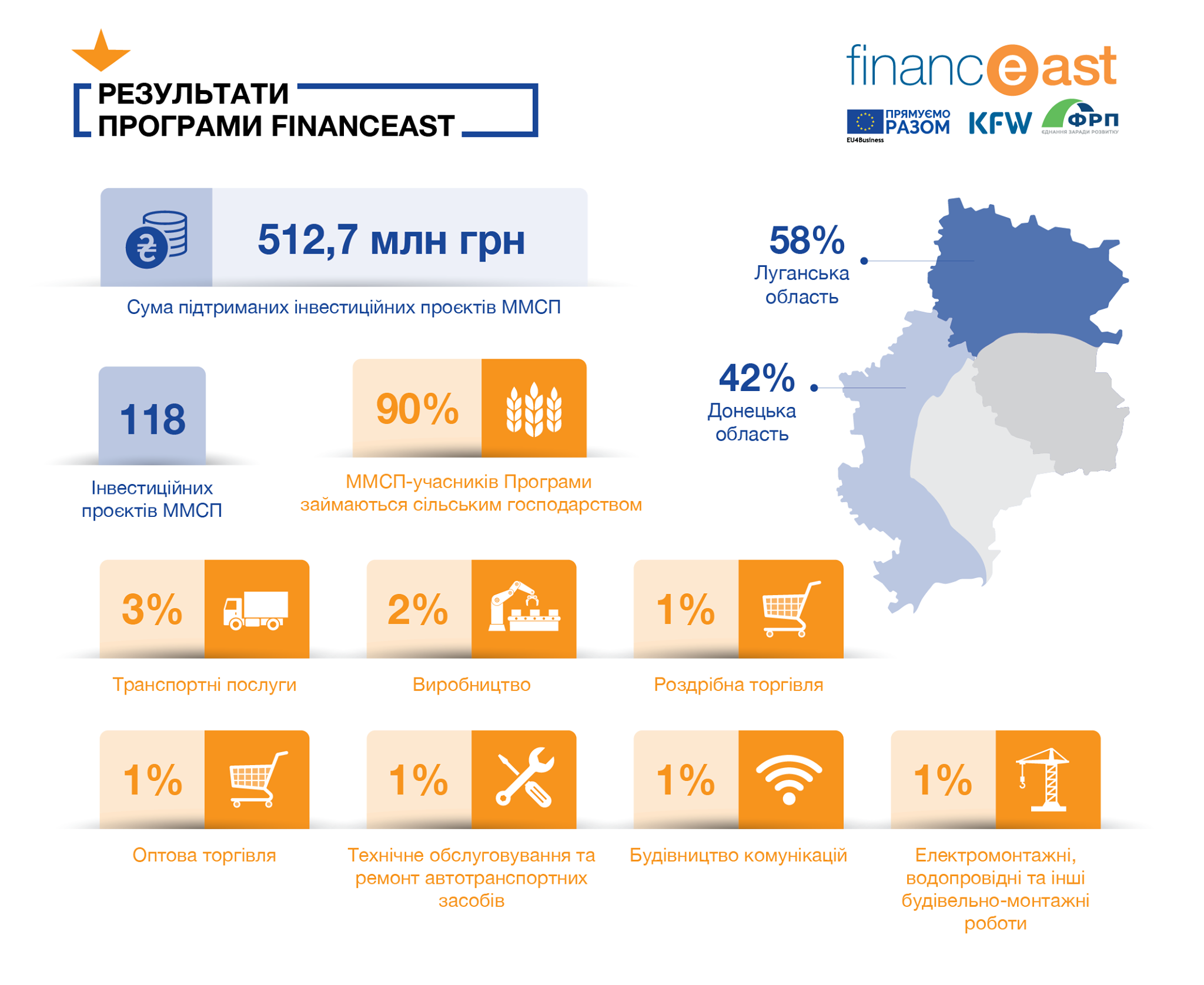 The program's statistics reveal that the overwhelming majority (90%) of MSMEs are agricultural producers. Beginning from April 2020, all MSMEs spent the funds provided by this program to purchase 96 units of various machinery and motor vehicles, including tractors, combine harvesters, reapers, irrigation sprinklers, loaders and other agricultural mechanisms. It provided a huge impetus to development of these enterprises, even amid the economic turbulence caused by the COVID-19 pandemic. After all, the quarantine is not the reason to put sowing and harvesting on hold.
Vendemia is a small farm in the Donetsk Oblast that took advantage of FinancEast, a program supporting MSME investment projects under the EU's EU4Business initiative.
Having learned about FinancEast from a partner bank, Savings Bank, the enterprise applied for financing of its project of purchasing a British-manufactured tractor, and being a micro enterprise, it not only was able to have its project of purchasing a powerful agricultural machine financed on market terms but also received financial support from the EU that compensated 50% of the machine's purchase price. Efficient investments allowed Vendemia to expand the enterprise by enlarging the area of its farmland.
More details are available in this video.
Another MSME, whose project was implemented thanks to FinancEast, is Altair, an agricultural enterprise in the Luhansk Oblast which has been growing cereal and oilseed crops for 25 years. After contacting Savings Bank as well, the enterprise applied for financing of its investment project of purchasing a powerful tractor. Thanks to this machine, half of whose price was refunded with financial assistance from the EU, the enterprise's sowing campaign was three times more efficient, and they at Altair have no doubts that it will definitely make itself felt during the harvesting.
Watch the video with an interview by the head of this enterprise.
Besides agriculture, MSMEs in Eastern Ukraine operate in other sectors of economy as well. For example, they are active in:
– manufacture of plastic containers;
– cargo transportation and handling;
– maintenance and repair of motor vehicles;
– wholesale food sales;
– construction of engineering systems, etc.
Some of these enterprises also took advantage of FinancEast program and want to share their experience.
Severodonetsk A-Plast is a company in the Luhansk Oblast manufacturing plastic products for the food and chemical industries. After deciding to participate in this program, the company submitted an application to Savings Bank with a project of purchasing production equipment, specifically a vertical milling center. Today, this equipment helps not only do a quality repair of press forms but also manufacture them. It also allowed the enterprise to enhance the capability to make plastic and metal products.
Under FinancEast program, Severodonetsk A-Plast received from the EU a partial refund (50% excluding VAT) of the equipment purchase price. The company's management is sure that thanks to FinancEast, small and medium-sized businesses now have the chance to receive real assistance for development of enterprises in the east of Ukraine.
Rubizhne Stocking Manufacture was one of the first enterprises to take advantage of the EU's FinancEast program of supporting MSME investment projects. The company, based in Rubizhne in the Luhansk Oblast, manufactures stockings and socks distinguishable for their bright design and high quality. Having learned about FinancEast from a partner bank, Savings Bank, the company submitted an application with a project of purchasing production equipment, specifically six Italian-manufactured knitting machines. Thanks to the EU's financial support which refunded 50% of the equipment purchase price, Rubizhne Stocking Manufacture was able to save money and enhance its production capacity. It will allow the company to manufacture better-quality and more competitive products.
Today, the enterprise has plans to increase its production output by 10% and enter the European market.
This program was launched only recently, but due to the high demand it enjoys among businesses in Eastern Ukraine, the entire amount provided by the European Union has already been allocated to finance MSME investment projects and is working for the Ukrainian economy. As for additional financing under FinancEast, here's the commentary we received from Valery Maiboroda, an authorized representative of the Entrepreneurship Development Fund: "It would depend on the program's results, which will be analyzed by representatives of KfW and the European Union. The previous results of this program give reasons to hope that it will be extended. But the final decision is the European Union's."
For detailed information about the program's terms and news, visit its website.
Source: Ostrov