Quality education is the cornerstone of the country's development in all areas. The European Union offers numerous mobility opportunities for everyone interested in professional growth, for those who want to gain new knowledge and skills, and most importantly, international experience. This article tells about programs available for academic community, students and specialists, and why you should apply for them.
Internships, volunteering, academic exchanges and trainings – this is only a short list of what is offered by Erasmus+, a program well known in Ukraine, to students, lecturers and youth workers. It includes, in particular, youth mobility and international academic mobility (KA1) we wrote about in detail earlier. Between 2014 and 2019, over 200 Ukrainian institutions of higher education and 3,000 civil society organizations became Erasmus+ partners. More than 9 thousand Ukrainian students and workers in various fields took advantage of the international credit mobility program, particularly the opportunities for a short-term study, practice, lecturing, or skill improvement. After completing the study abroad under this exchange program, the courses which a student took in a university of a particular EU state will be included to the transcript of the student's diploma from a Ukrainian institution of higher education.
During five years, undergraduate and postgraduate students received almost 250 scholarships for joint master's programs (Erasmus Mundus Joint Masters Degrees). They provide an opportunity to gain a master's degree from several partner universities simultaneously, available to everyone still studying under a bachelor's program or already having a bachelor's degree.
Kylyna Kurochka from Lviv became one of those students. After studying at the Ukrainian Catholic University, the young woman enrolled in an Erasmus Mundus master's program titled "Sustainable Territorial Development". The study continued for two years: the first semester in Padua, Italy, the second in Leuven, Belgium, and the third one in Paris. During the last semester, Kylyna took practical training at UNESCO. "Every semester, we had a practical trip for a day or two. During this trip, we learned about how sustainable development principles are applied," the graduate of Erasmus Mundus program says. "There was a lot of personal development. It is also communication with people from various fields, environments and countries. It also involved multitasking and fast adaptation, since we had to move every six months, and that needs a lot of efforts and fast actions."
The experience in studying under these programs is extremely important for Ukraine, which undergoes reforms in all areas. Having completed her master's program in September 2019, Kylyna fully applies her knowledge in the recently created project named "Tarilka" ("Plate") in Lviv. It is a food bank intended to provide food to low-income categories of population, combining the work in various areas of sustainable development.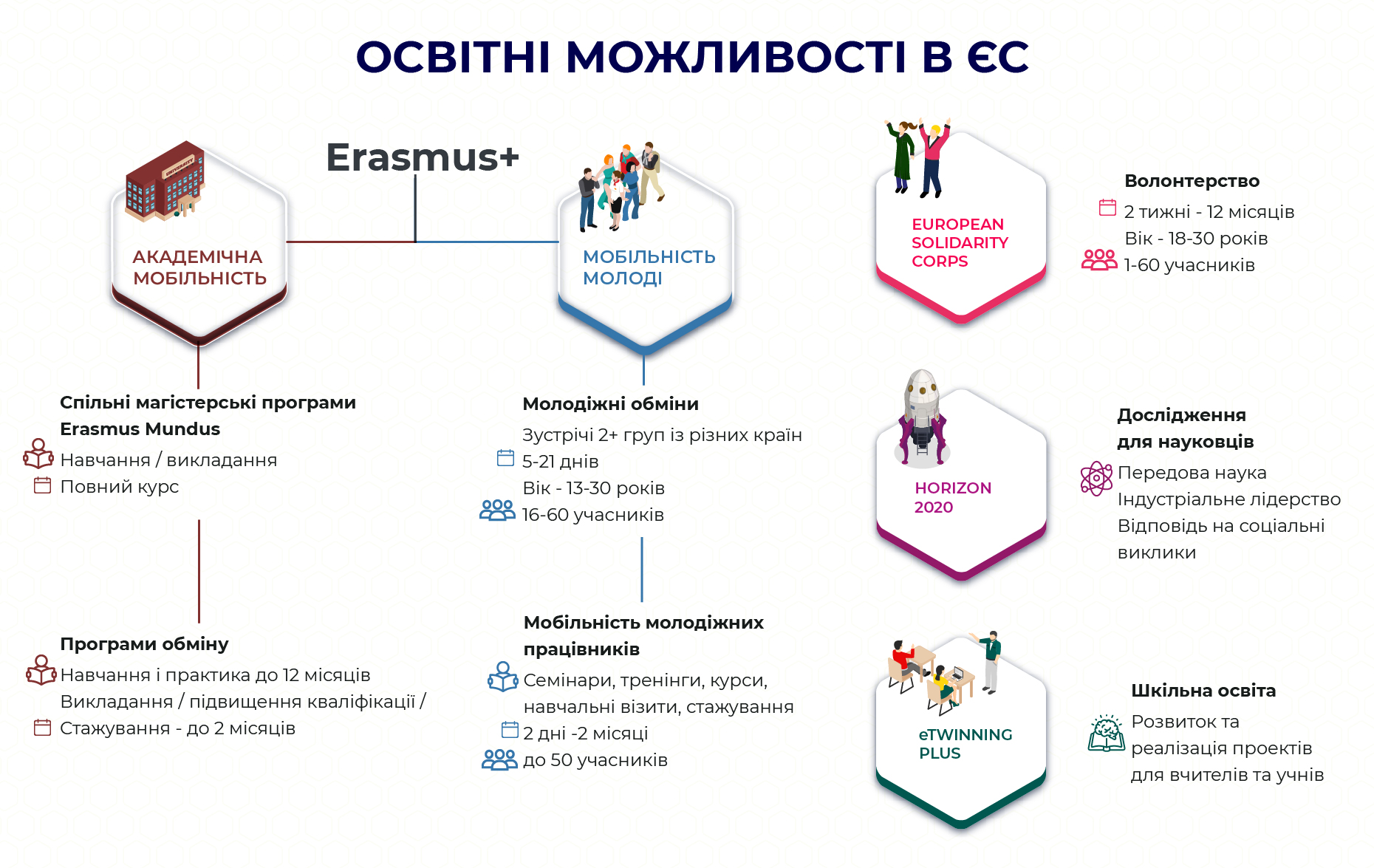 Applications for Erasmus Mundus joint master's programs are usually accepted in October and January, according to the beginning of a new academic year. Lecturers who can offer an innovative course are also eligible to participate in this program.
Nevertheless, a two-year master's program is not the only option of gaining unforgettable international study experience. Volunteering is one of the popular opportunities for informal studies and practice in the EU. Today, the European Solidarity Corps is concerned with this area. Projects under this program last from 2 to 12 months, and are available for persons aged between 18 and 30 years. Volunteer work as part of ESC includes restoration of embankments in order to draw attention to environmental problems, social support to persons who need a shelter, and countless other ways of contributing to the development and revival of local communities across Europe. By helping solve various social problems in EU member states (and not only there), the participants not only gain the experience of living in an international team but also improve their soft skills.
During the last few years, Halyna Safronieva participated in various volunteer projects abroad. "Since the European Union finances a lot of opportunities, I was finally able to engage in volunteering in Belgium," the culture manager presently working as a volunteer in Genappe says. "To be honest, it was a cultural shock which I am still trying to cope with even today, but at the same time, it is an excellent occasion to rethink my life, immerse deeper into mentality of another people, understand what Ukraine has lack of and how we, young people, can implement something new into the old post-Soviet system."
As part of this project, Halyna is working mostly in theaters: her job is usually to help technical personnel, make videos about development of cultural initiatives, and help the local eco-shop. Besides new impressions, volunteering helps her become "closer to conscious consumption, responsible attitude toward natural resources and solidarity with those who need help". "Belgium taught me the most important rule: people are always in the first place," Halyna admits.
You can monitor the available opportunities and updates concerning youth exchanges, trainings, courses, and volunteering on the webpage of Information Center Youth providing up-to-date information about Erasmus+youth projects. However, education opportunities are not just about opportunities for the youth. Such component as Cooperation Projects (КА2) is also worth mentioning in the context of improving Ukrainian education in general. In particular, it includes development of higher education potential (ex-Tempus), which provides financial support for modernization of academic process, implementation of innovative approaches, materials and many more.
In the previous material about Eurolibrary, we described in detail collaboration and exchange programs for education specialists, representatives of civil society and cultural organizations, and youth workers available outside Erasmus+. Even though some of these programs are due to expire this year, the European Commission's program for development of cooperation between European schools, eTwinning Plus, for example, remains on the offer.
Last year, Uliana Dobushchak, a teacher from L. Shankovsky Secondary School in Obroshyn, attended the seminar "Democratic participation and eTwinning" in Helsinki. According to her, this seminar allowed her to take a different look at democracy and share her thoughts with pupils: "We, teachers, can help pupils develop and understand the process of democratic decision making and encourage them to actively participate in the life of local communities and the society in general," the teacher says. "The participation in eTwinning program enabled me to feel myself a part of European education community of the most active teachers whose daily work changes education for the better." In the opinion of Uliana Dobushchak, the advantage of eTwinning is that "pupils and teachers can work together despite borders".
The Ukrainians interested in science and innovative developments can still take advantage of the EU's largest research program, Horizon 2020 (in particular, its component "Marie Skłodowska-Curie Actions"), allowing talented researchers and scientists to study and work on new development projects in EU universities and not only there. This program encourages cooperation between the public and private sectors to achieve progress in innovations. Today, it also concerns developments aimed to combat the coronavirus disease. The latest opportunities and deadlines in this area can be found here.
Regardless of age, gender and occupation, every Ukrainian who wants to grow and gain practical knowledge can choose or take advantage of at least one of the numerous education opportunities offered by the European Union. In order to gain unforgettable multicultural experience, expand your worldview and augment your skills, the most important things are convincing motivation and desire to learn.
By Iryna Matviishyn, analyst at Internews Ukraine
Source: PMG.ua