Communicating with foreign teachers and students in class is already a reality at Ukrainian schools. Thanks to the European Union's eTwinning program, our schools can implement joint projects with European institutions. New Ukrainian School about how to get registered in this system.
What participating teachers get
the belonging to European education community that brings together active teachers from 45 countries;
professional development: discovery of new approaches to education, expansion of pedagogical knowledge;
exchanging experience with the most active teachers from Ukraine and other European countries;
increasing motivation of students, opening up their potential to the maximum extent;
an opportunity to participate in trainings, seminars and conferences in Ukraine and other countries of Europe;
the prospects to receive national and European awards.
What you need to participate in the program
the availability of a computer class and Internet access at the school;
the teacher's desire to devote time to participation in the program (if the program enables the maximum integration of project activity into academic process);
the availability in a potential participant of basic computer and IT skills.
How to register
If you want to join the program, click on this link and select the country (Ukraine).
After that:
enter your first and last name in English – that's how you will be signed up on the portal after registration;
select your position;
add your active e-mail address to receive invitations for trainings and newsletters from the program (you cannot use a Russian-registered e-mail address);
select your login;
select your password.
After that, you will receive a message to the address you provided, containing a link to continue registration process.
Step 1. Your school
select a country
select a region
find your school
Enter the name of your school or city in English. A list of registered schools will appear below. Select your school or, if your school is not on the list, go to "Click here to register a new school".
eTwinning asks you to check whether your school is registered before registering a new school to prevent duplication. To check it, visit the program's Ukrainian website or the European portal.
If you are registering a new school:
enter the name of your school in English (example: Bila Tserkva Gymnasium No 1; A. Sheptyckyj Gymnasium of Stryi)
select a country and region
enter the school address in English (example: Zvetaevoi St., 14 B; Kosygina St., 9) (Blvd – boulevard; St – street; Lane – provulok)
enter the city name in English and postal index
enter the school number (or "–" if none) and the school telephone number
enter the school's e-mail address
add a link to the school's website
enter YES if your educational institution is a vocational school or college
enter the school principal's first and last name in English
add the principal's e-mail address
Step 2. Your personal information
select your position
select the level of education you teach:
– ISCED 0 (>6 years);
– ISCED 1 (7-11 years);
– ISCED 2 (12-15 years);
– ISCED 3 (16-19 years);
– ISCED (vocational school).
You can select the maximum of two options. If the age range of your students includes more, select "OTHER".
select the subject(s) you teach;
select the age range of your students;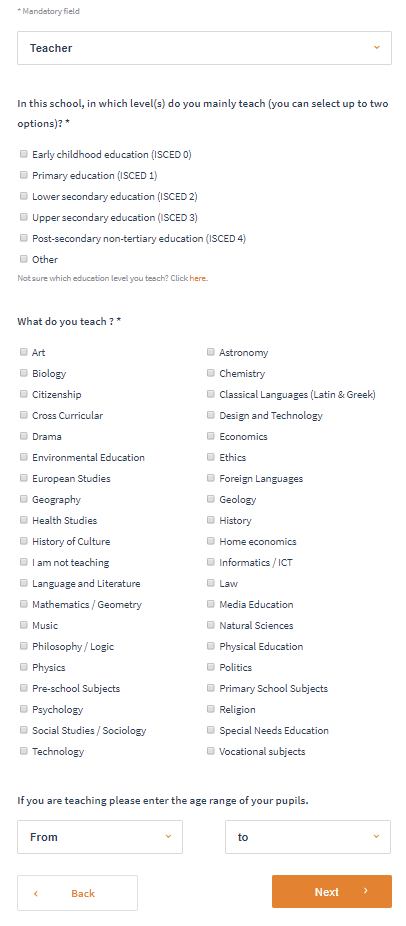 briefly describe yourself and your teaching experience. You may also describe the project's idea or the types of projects you want to implement. You may edit this text in your profile at any time after registration;
select the languages you are proficient in.
Every registered participant will receive a notice of successful registration and recommendations on how to use the central portal, sent to the e-mail address provided on registration form. From that moment, your school becomes a participant of eTwinning Plus program.
If your international project is successfully implemented, not only the registered teachers but also other teachers and staff of your educational institution could join the team of your school.
Source: NUS