Today, people of Zhytomyr can take advantage of a new, convenient electronic cartographic service: geoportal. This service is available to both the city's residents and the staff of Zhytomyr City Council.
The purpose of a geoportal is to provide complete and detailed information about the areas. For the community, it serves as a convenient instrument for fast online search of information about the city, and as far as municipal authorities are concerned, a geoportal will enable them to analyze spatial data and make optimal decisions as regards the city's development.
"In Europe, it is considered a matter of prestige for even a small town to have this electronic service on its official website. The use of geoportals, along with other information or reference resources, became an unalienable part of life. As of today, geoportals are actively implemented in Ukrainian cities, and Zhytomyr is no exception here," Zhytomyr Mayor Serhii Sukhomlyn said.
What is a geoportal?
A geoportal is a multifunctional online resource providing complete and up-to-date cartographic information. In the essence, a geoportal is a precise and detailed map of an area, featuring information about various objects. The idea is largely similar to Google Maps, with the only difference is that a geoportal is custom-made to suit the needs of a particular city. In particular, Zhytomyr geoportal (gis.zt-rada.gov.ua) offers information about:
funding of various municipal projects from the city's development budget

objects which the city offers to investors

municipal buildings and facilities

legitimate advertising structures

temporary structures

energy performance of various municipal facilities
All this data is available for viewing on the map in the form of layers or registers, and for downloading in a format convenient for processing. You can even view analytics concerning various areas of the city's life.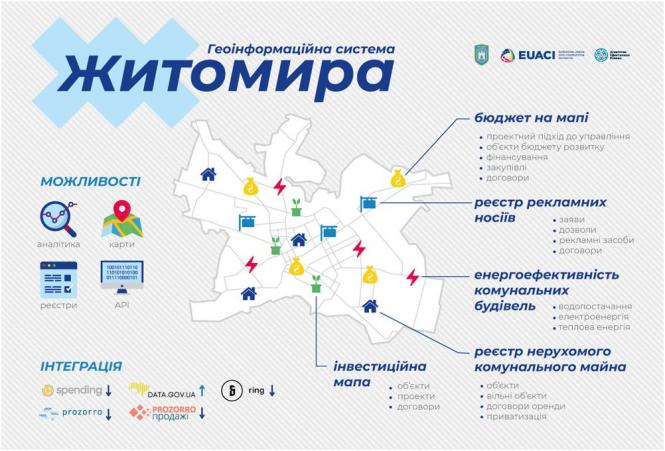 Why in the form of layers? This solution has a number of advantages: firstly, it does not overload the map. The entire information is placed on various semitransparent layers, making the geoportal convenient to use: you select only the layers you need, and look there for an object you're interested in. Secondly, a geoportal can have unlimited number of information layers according to the city's needs.
To be sure, it is important for a system like that to keep its data up to date; that's why the city council staff actively checks and supplements the geoportal's data.
To visit the city's official geoportal launched in the test mode, go to: http://gis.zt-rada.gov.ua/
Who needs a geoportal?
Let's now find out who needs the geoportal's layers and what their use is.
City council
For municipal authorities, a geoportal becomes an efficient instrument allowing to monitor the city's growth and plan further urban development. A geoportal provides vivid information about the problems existing in certain neighborhoods and helps make optimal urban planning decisions.
By monitoring and analyzing problems on a geoportal, bodies of local self-government can systematically solve them, making the city more confortable to live in.
Community
A geoportal offers the city's residents a precise and detailed map featuring municipal institutions, schools, kindergartens, etc.
Businesses
A geoportal enables commercial companies to easily and quickly conduct geomarketing surveys. Geomarketing means market research from the viewpoint of spatial data. A geoportal with detailed indication of all organizations operating in a particular area helps an entrepreneur select an ideal location for their company.
For example, you want to open a store, pharmacy or flower kiosk. By perusing the relevant layer of geoportal, you can easily find a place which does not have similar retail outlets. In this situation, local residents will have something to gain, too, for new stores will be opened in the places where they are needed.
Geoportal's features
The list of geoportal's features depends on the number of layers. For example, Zhytomyr geoportal has the "Historical plans" layer which includes several historical maps dated to 1876, 1899, 1915, 1934, 1941, 1968, and 1991.
Want to know what was the former name of the street you're living in?
Check out the geoportal at http://gis.zt-rada.gov.ua/, scroll down the page and click on "Historical plans".

In the popup window, select the map you need. This way, you can view all publicly accessible historical maps.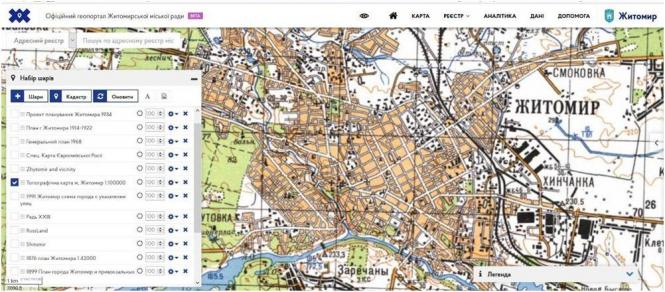 In addition, a geoportal can have special layers.
Some of these layers are intended specifically for utility companies and other municipal institutions, and will be closed for the public at large. For example, a map of the water supply system and the power grid is created solely for the utility companies concerned. Ordinary citizens do not need these maps, but public officials and utility services will use them to promptly retrieve and analyze information.
For your information: This geoportal was created thanks to cooperation between Zhytomyr City Council and the EU Anti-Corruption Initiative Ukraine (EUACI). Technical implementation was handled by IT specialists from SoftPro.
Source: ZT.20minut