Recently, the Toretsk community has received a new mobile ASC. Now residents of remote villages in Toretsk district will be able to receive administrative services close to their homes. The car resembles a small office, where there are two desks for administrators and all the necessary equipment. There are also remote workplaces for employees of the pension fund, social and other services.
There are things one can hardly imagine one's life without. For example, a mobile phone. Or the Internet access. Or a high-speed intercity train. These are the things that make our life easier, free our time and allow processes to be more comfortable.
I would also add to that list the establishment and operation of Administrative Service Centers (ASCs). I used their services many times myself, and felt a great relief that I no longer had to look for the "right connections" of one kind or another, make deals and ask for a service that actually must be accessible without a corruption element. For if registration of one's place of residence is considered something of a heroic feat, that means one thing: the government has little care of its citizens, creating a pile of red tape for them instead, apotheosizing bureaucrats and "facilitators" of all sorts.
Decentralization is, in fact, the reform that has the purpose of making the needs of local communities a priority: solving concrete problems and issues. It is called the most successful reform, unlike those remaining declared on paper but weak in practice.
So, ASCs, Toretsk, Donetsk Oblast. 25 kilometers away from there is occupied Horlivka. A territory divided in half. Families are also divided in half. Before the war, children were going to Horlivka to study and work. A city of 300 thousand residents offered many various opportunities. But the parents stayed in Toretsk. As a rule.
"That's why the most in-demand services here are those related to retirement affairs," Oksana Onyshchenko, Head of Toretsk ASC, says. "The population does not get younger, and youths are trying to leave."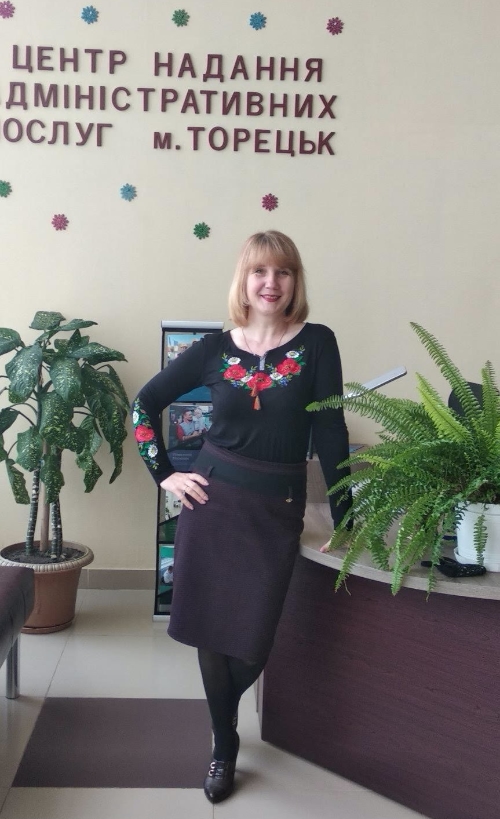 Photo: Oksana Onyshchenko, Head of Toretsk ASC, working for two years in the administrative services sector
Our conversation is becoming more about problems. People who live here cannot feel completely safe in this place. The proximity of the contact line and the combat area causes anxiety and uncertainty, not allowing to make plans for the future. All that is an objective reality one cannot turn a blind eye to.
From the very beginning, the ASC was taken care of by international organizations. Donors helped with money to buy equipment and train personnel.
And recently, thanks to joint efforts of the EU and the UN, Toretsk community received a new motor vehicle equipped for a mobile ASC. So now, it can travel to the remotest villages, where the residents can receive administrative services right on location.
"Tomorrow, we are going to a village which doesn't even have a food store. Surely, people there are waiting for us. We wrote letters to all village councils, and requested local activists to spread information about our services. Since our mobile ASC became operational in July 2020, we already made eight trips and provided services to 129 persons. Many of these services were put on the back burner, so to speak. People often don't know what to do in this or that situation. Therefore, when coming over we also provide consultations and explanations, helping find the optimal ways of solving existing problems."
"Oksana, I read that if a mobile case is available, certain documents can be produced and printed out on the spot, right in your automobile. Do you have one?" I asked her.
"We received it in October. This is a set of modern portable equipment. The entire mobile office fits into a compact metal case. It contains a laptop, a portable scanner and printer, a 3G USB modem for Internet access, a battery with operating time of 5-6 hours, and a webcam. Presently, we are preparing the usage protocols, and will have this equipment at our disposal."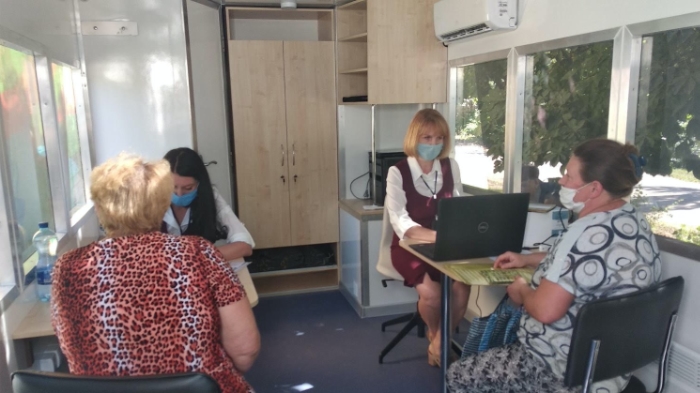 Photo: Services to citizens are provided on location by two administrators, for whom comfortable workplaces were created
The vehicle itself is designed in a way that makes it resemble a small office featuring two comfortable workplaces for administrators and the entire equipment they need: computer hardware, software and Internet access, video surveillance, GPS navigation, two types of autonomous heating, ventilation, air conditioner, connection to external power sources, autonomous restroom with hot and cold water, mobile ramp for persons with disabilities or impaired mobility, and waiting area. Mobile ASCs also have remote workplaces for specialists of the Pension Fund, justice, social security, Emergency Service, and other government agencies.
The cost of the automobile, including all equipment and training of specialists, is almost 30 thousand euros.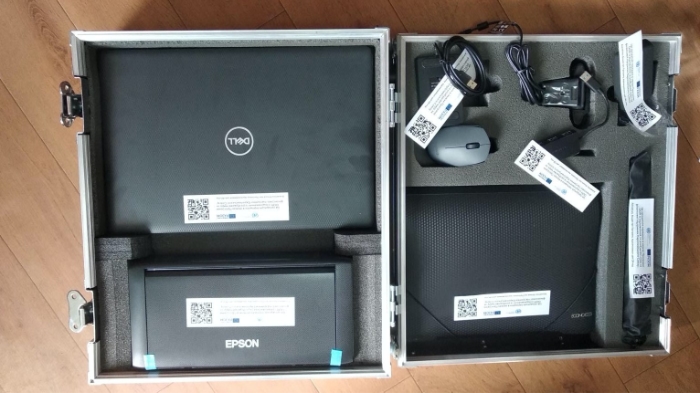 Photo: A set of portable equipment allowing to produce documents on the spot
"People need this service. A few days ago, we received a visitor – a woman whose husband is paralyzed. He obviously cannot move, so our visit simplified possible administrative formalities. She needed a permission to register a residence address. We came over, and took care of all that."
Oksana Onyshchenko says that they decided to visit remote locations not just with the ASC truck alone but also invite other government and municipal organizations to join their "landing force". For example, the Pension Fund, social security administration, Employment Center. It allowed to comprehensively resolve the issues that piled up for years.
"In summertime, it was easier for us to find the base," Oksana says. "We could take chairs out and set up workplaces right in the open, so to speak. But now, it will be harder to do that. Surely, the local councils are trying to accommodate us. In one village, for example, they allocated an empty house, because we need power supply and Internet access. Internet access is a real problem. There are villages where the coverage is almost nonexistent, or the signal is very weak. It really complicates our work."
"So, how do you deal with this situation?" I asked her.
"It depends. Sometimes, we're simply looking for a spot where there is a signal, and ask to be connected. A school helps us in one place, the village council in another. I have ordered a 50-meter cable to make sure that we have Internet access for our work. This is not a trifle but our reality – that's what we work in and with, and that's what seriously affects the quality of our work."
Oksana talks about certain cases, shares her thoughts, analyzes performance. She sincerely cares about what she does and what she is responsible for. She does not paint rosy pictures and does not dramatize things.
She's upset that people are leaving.
"The biggest demand among our services is for registration of residence address, followed by applications for international passport. We even recorded a surge before the quarantine: young men were applying for passports en masse. They started to close down coal mines, leaving people out of work, so many were going to work in Poland. It was about survival, in the literal sense of this word."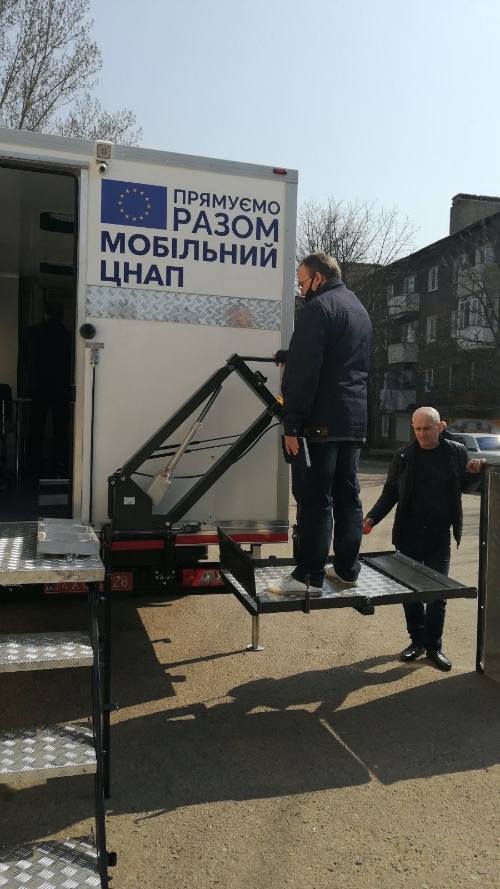 Photo: A special mechanism – wheelchair ramp – allows people with disabilities to access the office
The mobile ASC's trips also added experience and understanding of what people need first of all.
"We, for example, cannot register immovable property on location, because we need special software for that, access to registers via the Justice Ministry's website, and so on. Therefore, we consult people on these matters, schedule appointments for them to make sure that they have to visit us only once for this service, accept payments via a POS terminal, issue receipts. We also cannot register a business. Cannot issue passports, including international ones."
It is worth noting that out of 111 services currently available at Toretsk ASC, only a few are unavailable at the mobile ASC. As mentioned earlier, because of software specifics and access to registers.
"However, we do not stand still – we are growing," Oksana assures me. "Presently, we are working on being able to register motor vehicles and issue driver's licenses. It is also important to start working with the State Land Cadaster. We have on our staff two specialists with education in law, which is required for this work. It would significantly simplify the running in circles to gather endless references."
We began talking about problems. One of the important problems is registration of immovable property and land plots. A bitter reality: people don't have money for that.
"We propose various options," Oksana continues. "We suggest pooling efforts of several people in the same village, in the same area, who have similar problems with documentation of immovable property and land. In that case, we'll be able to bring a specialist who will take the necessary measurements. After that, we could move on. But after people hear that they have to pay 2-3 thousand hryvnias for that, they give up. The quarantine made this problem even more acute."
"Are there any administrative services with the least demand?" I asked the Head of ASC.
"There is demand for almost all of them, but there are services with the least demand. To rank them, it would probably be various architectural and construction services. We already talked about the reasons. Although I can tell you a story when our mobile office helped one family with many children."
Tetiana Kobyzska has four children, and all of them live in Druzhba village in the Donetsk Oblast. Tetiana raises her children alone, and benefits provided by the government are very important for her. In order for her two younger kids, who recently turned six years each, to be eligible for these benefits, they had to be issued special certificates.
In the past, residents of Druzhba village could receive these documents, as well as other administrative and social services, only by visiting Toretsk.
But after a quarantine was introduced, public transportation was suspended and Tetiana had no other way of visiting an ASC.
However, after UNDP provided a mobile ASC to Toretsk community under the United Nations Recovery and Peacebuilding Programme with financial support from the European Union, Tetiana became able to receive this service in her village. Moreover, Tetiana was not only issued the certificates for her children but also received help with other matters, for example, documents for her land plot.
"We now see," Oksana Onyshchenko, Head of Toretsk ASC, says, "a decline in the number of visits to our office. And that's definitely not because all issues have already been resolved. Limited transportation between remote villages during the quarantine makes itself felt. Moreover, residents of the remotest locations are often elderly people, for whom it is physically difficult to travel by public transport and who sometimes are unable to wait in long lines at stationary service centers. There were instances when people coming from remote locations could wander around the streets of an unfamiliar city for hours before they could find the right institution. Even if they do not completely solve the problem, mobile ASCs significantly simplify access for those who live far away and need a particular service."
Presently, the route of the mobile ASC has 11 stops in the remotest locations of Toretsk community. This is a real and a necessary help. For the main purpose – bringing services closer to people who live in areas located far away from stationary ASCs and to vulnerable categories of population: women, people with disabilities, elderly people and people living along the "contact line" – makes sense and produces results.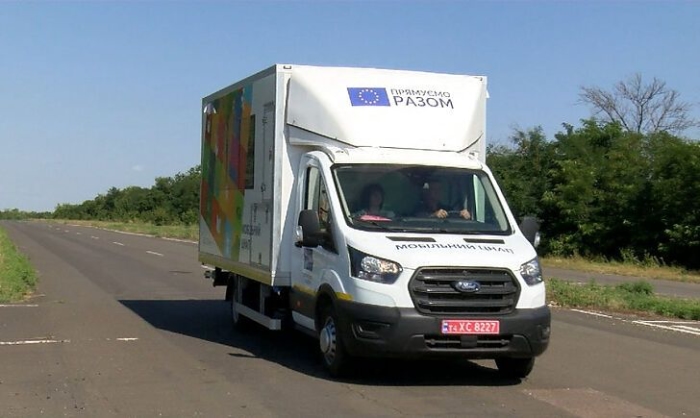 Photo: That's what a mobile ASC on wheels looks like. The automobile provided to Toretsk is traveling to its destination
On top of that, the outbreak of the coronavirus disease in the country cannot be ignored, either. Mobile ASCs allow to avoid crowds and receive the necessary services right next to your home or even at home, without exposing your health and health of your close ones to danger.
By Zoya Kazanzhy 
Source: Ostrov