On 15 September, the European Union and the United Nations Development Programme (UNDP) in Ukraine provided 15 thousand modern respiratory protective devices to medics in the Donetsk Oblast.
Ukrinform reports that according to a press release by Donetsk Oblast State Administration, the respirators were delivered under the United Nations Recovery and Peacebuilding Programme (UN RPP).
The report continues that these N95 valveless respirators will help medics in the region to efficiently and safely respond to the COVID-19 pandemic. Four hospitals in the Donetsk Oblast received these devices: Bakhmut Intensive Care Hospital, Kostiantynivka Infectious Diseases Hospital, Myrnohrad Infectious Diseases Hospital, and Kramatorsk Regional Center for Emergency Medical Assistance and Disaster Medicine.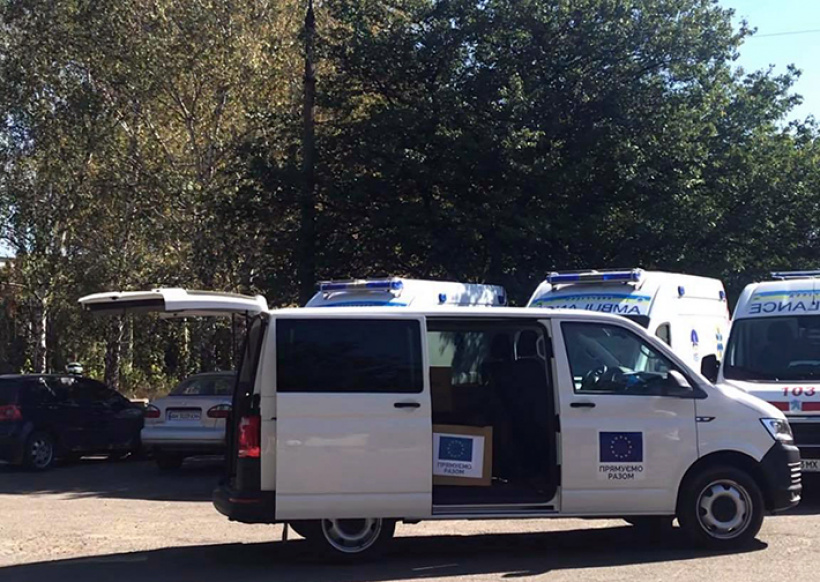 Unlike regular face masks, a N95 respirator is a tight-fitting device protecting the medical worker wearing it against infectious droplets, which the wearer may breathe in when in contact with a patient, or during transportation of patients to medical institutions, or when diagnosing and treating diseases. These respirators are intended to block up to 95% of the tiniest aerosol particles and filtrate the air against, in particular, viruses and bacteria. They provide better protection than surgical masks.
Ihor Kiyashko, Head of the Regional Center for Emergency Medical Assistance and Disaster Medicine, thanked the international partners for consistent assistance they provide in overcoming the consequences of the COVID-19 pandemic and developing the potential of medical institutions in the Donetsk Oblast.
Donetsk Oblast State Administration reminded that the UN Recovery and Peacebuilding Programme is implemented by four United Nations agencies: the United Nations Development Programme (UNDP), the UN Entity for Gender Equality and the Empowerment of Women (UN Women), the United Nations Population Fund (UNFPA) and the Food and Agriculture Organization of the United Nations (FAO).
The Programme is supported by thirteen international partners: the European Union (EU), the European Investment Bank (EIB), the U.S. Embassy in Ukraine, and the governments of the United Kingdom, Denmark, Canada, the Netherlands, Germany, Norway, Poland, Sweden, Switzerland and Japan.
Source: <a href="http://

The European Union and UNDP provide 15 thousand respirators to medics in the Donetsk Oblast

On 15 September, the European Union and the United Nations Development Programme (UNDP) in Ukraine provided 15 thousand modern respiratory protective devices to medics in the Donetsk Oblast.

Ukrinform reports that according to a press release by Donetsk Oblast State Administration, the respirators were delivered under the United Nations Recovery and Peacebuilding Programme (UN RPP).

The report continues that these N95 valveless respirators will help medics in the region to efficiently and safely respond to the COVID-19 pandemic. Four hospitals in the Donetsk Oblast received these devices: Bakhmut Intensive Care Hospital, Kostiantynivka Infectious Diseases Hospital, Myrnohrad Infectious Diseases Hospital, and Kramatorsk Regional Center for Emergency Medical Assistance and Disaster Medicine.

Unlike regular face masks, a N95 respirator is a tight-fitting device protecting the medical worker wearing it against infectious droplets, which the wearer may breathe in when in contact with a patient, or during transportation of patients to medical institutions, or when diagnosing and treating diseases. These respirators are intended to block up to 95% of the tiniest aerosol particles and filtrate the air against, in particular, viruses and bacteria. They provide better protection than surgical masks.

Ihor Kiyashko, Head of the Regional Center for Emergency Medical Assistance and Disaster Medicine, thanked the international partners for consistent assistance they provide in overcoming the consequences of the COVID-19 pandemic and developing the potential of medical institutions in the Donetsk Oblast.

Donetsk Oblast State Administration reminded that the UN Recovery and Peacebuilding Programme is implemented by four United Nations agencies: the United Nations Development Programme (UNDP), the UN Entity for Gender Equality and the Empowerment of Women (UN Women), the United Nations Population Fund (UNFPA) and the Food and Agriculture Organization of the United Nations (FAO).

The Programme is supported by thirteen international partners: the European Union (EU), the European Investment Bank (EIB), the U.S. Embassy in Ukraine, and the governments of the United Kingdom, Denmark, Canada, the Netherlands, Germany, Norway, Poland, Sweden, Switzerland and Japan.

Source: Ukrinform

https://www.ukrinform.ua/rubric-regions/3100219-evrosouz-ta-proon-peredali-15-tisac-respiratoriv-medikam-doneccini.html

">Ukrinform