Life imprisonment is the harshest punishment in Ukraine. Capital punishment was abolished in 1999. Human rights activists advocate the changes which could approximate our penitentiary system to international standards. This topic is addressed by Important for Life project and its part, Penita. Opera composed by Zoltán Almási, 45 to the libretto by Tetiana Kytsenko, 42. 
Contemporary Ukrainian opera is rapidly transforming itself from an elite underground art into something of a mainstream. The tone was set by Vlad Troitsky's Nova Opera together with the composer tandem of Roman Hryhoriv and Illia Razumeiko. Eight operas were staged under this brand since 2015, and one of them, IYOV, won the Shevchenko Prize this year.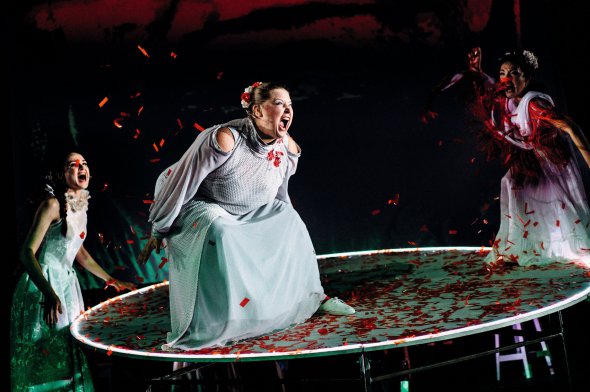 Premieres of several operas by Ukrainian composers also took place this season: Oleksandr Shchetynsky's Natalka Poltavka in Kharkiv, Ivan Nebesny's Mykyta the Fox in Lviv, Andrii Merchel's Entropy based on Olha Tokarchuk's prose in Poznan, Poland. The premiere in Kharkiv of Alla Zahaikevych's opera Vyshyvanyi. The King of Ukraine to the libretto by Serhii Zhadan was announced for this May.
Amid these mostly literary plots, Penita. Opera is distinguishable for its documentary background. It is based on the stories of four women doing time in Kachanivska penal colony No 54 in Kharkiv.
Last year, the opera was staged in Kyiv, Odesa, Dnipro and Kharkiv. They also wanted to perform the opera in the prison itself, but the administration denied permission, fearing the reaction of the convicts.
According to statistics, almost four percent of people serving a life sentence in the world were wrongly convicted. Unlike in European countries, we do not have the practice of conditionally paroling those serving life in prison or a mechanism of correcting judicial mistakes.
Important for Life project includes an exhibition of works by documentary photographer Rusia Aseyeva. The photos were taken in Kachanivska penal colony. We can see a convict's lunch, laundered bed linens drying on the rope, a picture of convict's family on the cell's wall.
The project's curator, playwright Tetiana Kytsenko, wrote libretto for this opera. A while ago, she became a revelation at the Week of Ukrainian Contemporary Play. She began engaging in dramaturgy while already having journalistic experience. Perhaps that's where her interest in social topics comes from. She wrote plays about the problems of Ukrainian healthcare system (The Bilokhalatnist), about the situation in the police force (My Militsiya Me), about the phenomenon of the Euromaidan and the role of women in war (Women and the Sniper). Her plays are based on interviews with people. Her style features a combination of documentary art with absurd and grotesque.
Penita was Tetiana's first opera libretto. In Kachanivska penal colony, she spoke to women serving a life term, recording their stories on tape. Her interlocutors were 37-year-old Kateryna Shchuka, 39-year-old Maryna Hovor, 40-year-old Lilia Chyzhyk, and 62-year-old Iryna Radosiuk. One of them is doing time for murder, another for double murder, and the other two claim that they didn't kill anybody but were framed.
The characters tell their story in turns, interrupting to let the next character speak. They do not hear each other. Each of them lives in her own world, by her own memories. They speak in different languages. The "spirited Assyrian" played by Li Berlinska and the "most timid among the convicts" portrayed by Viktoria Romashko speak Ukrainian. The "Thunder Baba" who spent 38 years behind bars, impersonated by Tetiana Lavska, speaks Russian. The fourth one, "smart as a steel trap", the heroine of Asya Sereda, speaks a macaronic language. The four monologues intertwine into a macro-metaphor of huge human woe, pain and suffering. The text of libretto is a synthesis of facts from life of people and overused clichés like "I believed that I will meet a beautiful prince", "it was love", "Vadim wasn't like everybody else". And all that is mixed with references to Dante's Divine Comedy and Samuel Beckett's Waiting for Godot.
Music plaits into action and becomes a part of symbolic code. The names of the main characters are divided by the parts of a string quartet: "Good Violin", "Bad Violin", "Viola" and "Cello". To be sure, a string quartet (which in the opera staged in Kyiv is Levko Revutsky Quartet) accompanies the action from the beginning till the end. They sit on a portal in the upper left wing of the stage. The musicians also play the role of crowd, the "public court", shouting moralizing phrases like "What a shame!", "Don't you remember that you're a woman?", "You should've used your brain!", "People like you must be shot on sight!"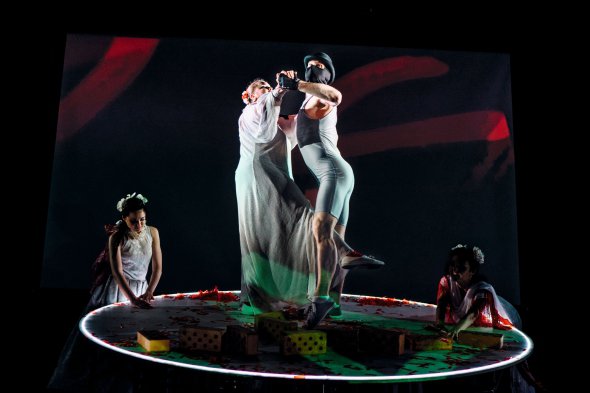 The cello part in the quartet is played by the composer, Zoltán Almási. He reads the article of the Criminal Code of Ukraine about "deliberate murder".
For Zoltán and Tetiana, this is the first experience in creating an opera. The composer draws on the tradition of comic opera. Almási is a master of stylization, and Penita became a sort of a cocktail of everything, from religious canticles to criminal songs.
"Remotely, this is, of course, the tradition of opera buffa, Singspiel, then the operetta and musical. In other words, this is a variety of the opera genre containing many dialogues and spoken text," Zoltán Almási says. "However, it has all features of a classical opera: leitmotifs, leittimbres, modified recitatives. Overall, I composed it based on the task we had: a documentary, social opera. In addition to rap, it has recitatives of kolomoyka style, stylizations a la pop music, prison chanson, romance, religious songs styled as the latest protestant Christian movements."
According to the plot, all heroines are victims of males. And the story of rape, where the woman who fell victim to male violence kills her rapists, and other stories tell about the woman's self-sacrifice for the sake of love. A man who committed murder forces his wife to share responsibility: "You and I are both in the same boat". In the world where men reign and women sacrifice themselves and then serve a life term, the Song About a Teethed Vagina sounds like a mockery: "Teethed vagina / You are the evil spirit! / Teethed vagina / Bit off the dick". And the idea of repentance by women sentenced to life in prison seems absurd. After all, they don't know what to repent:
"Cello: And what if we do repent, really?
Good Violin: Repent what?
Cello: No need to clarify that".
It seems that the justice system should not divide people on the basis of gender – all people should be equal before law, and a person must answer for their acts. However, this "right symmetry" is debunked by one of the most dramatic episodes in the play: a tale about pregnancy of one of the life-term convicts. Once every two months, convicts are allowed to see their close ones in a separate room. It ends with abortion, because "doing time with children is prohibited!"
Stage acts are played inside a white circle, evoking associations with the circles of Dante's Inferno, a vicious circle, despair. Red confetti is strewn inside the circle. These two colors, red and white, dominate in the play's symbolism: blood and innocence. In the final act, all four heroines take off their white dresses and remain in the underwear, exposing their vulnerability.
"Life imprisonment is not just about those who will spend the rest of their life behind bars; it is also about all of us. Many people on the outside have only illusory freedom, chained in the prison of their own stereotypes and groundhog days. But metaphors aside, people serving life in prison surely have to answer for what they committed. But on the other hand, we, the society, also have to realize what we do with these people. Life imprisonment without the possibility of conditional parole contradicts the meaning of penitentiary system: the person has neither motivation nor possibility to change their behavior," Tetiana Kytsenko, playwright, curator of Important for Life project, says. This project was implemented with financial support from the European Union under Culture Bridges program.
By Olesia Naidiuk
Source: Gazeta.ua