To hold the reform of the Security Service of Ukraine, which involves limiting its functions, demilitarization and depoliticization, Ukraine needs a new leadership that will start to introduce these changes. Similarly, the Prosecutor General's Office should be headed by a prosecutor who does not represent any political force. How does the EU assess the progress of the reform of the law-enforcement system in Ukraine, and what further steps are needed, read in an interview with Kestutis Lancinskas, former head of the European Union Advisory Mission Ukraine.
The European Union Advisory Mission (EUAM) helping implement reform of the law enforcement system has been working in Ukraine since 2014, and the Mission's incumbent Head Kęstutis Lančinskas, an ex-police officer from Lithuania, came to Ukraine in 2016 shortly before Yurii Lutsenko was appointed as the Prosecutor General (and as we know, the law on prosecution authority had to be amended to legitimize his appointment). His tenure saw the creation of the "national militia" thought to be affiliated with Arsen Avakov, the problems with recertification in the police force and prosecution system, unsuccessful attempts to reform the Security Service.
To be sure, there were achievements in reform as well. A good example is the framework law on national security, which the Verkhovna Rada has eventually passed under pressure from Western partners, including that very EUAM.
Evropeiska Pravda spoke to Mr. Lančinskas on numerous occasions, but this interview is special. On 31 May, the Head of EUAM finishes his mission in Ukraine, and at the end of his tenure, he permitted himself the comments that have never been voiced during "recorded" interviews.
"The Security Service itself won't block its reform"
– Since you're finishing your work in Ukraine, please tell us what you were able to achieve and what you weren't.
– We are an advisory mission, and therefore, our success depends on success of our partners. We were able to gain trust in the relationship with some of them, and the outcome there was good. But where there was no trust or willingness, there was no result.
– With whom you weren't able to establish trust? Let me guess… Probably, the Security Service?
– … (laughs)
– A telling pause. So, what about them?
– Let me tell you with whom we achieved the greatest success. The greatest achievements were with the National Police for the simple reason that from the very beginning, the police were very open.
We did a great job. 15 thousand police officers underwent our trainings, including 4.5 thousand last year.
– You knew that I'll ask this question again. So, what's the deal with the Security Service?
– To begin with, an international group was established back in 2016 to help reform the SBU (the Ukrainian acronym for the Security Service of Ukraine – translator's note). They developed a concept, taking into account all details. I saw some nine versions of that concept's draft, but neither was approved! The law on national security containing the requirement to develop a concept or amend the existing law on the SBU was passed during this time. But…
The basic principles of reform are known, and they do not change: depoliticization, demilitarization and reduction of SBU's functions. However, a reform can succeed only when it has political support.
Without it, there will be no changes.
That's what probably has happened.
– Can the SBU itself block the reform?
– By itself no, subject to the existence of political will.
Moreover, when attending meetings at the SBU I saw many motivated people who wanted to change, wanted to reform the Service. Therefore, all they need is the new leadership who will start doing it.
The SBU is a very complex organization, and a reform of this organization requires a clear action plan that must be adhered to, because you are waging a war, you need counterintelligence and the like.
– You, probably, have been in contact with the Ze Team. Do they understand the importance of reforming the SBU?
– To be honest, we indeed talked to the President's team after the election and heard very promising statements from them regarding this matter.
"The prosecution system needs recertification or lustration"
– Let's now talk about the Prosecutor General's Office. Is it a story of success or the other way round?
– The Prosecutor General's Office is a very important institute in the system of justice. And it is very important that it remains efficient.
There are positive shifts there: for example, the prosecutor certification system is being tested since 1 January. 30 prosecutors in three regions volunteered to undergo evaluation of their performance under this system. Therefore, it would be unfair to say that nothing's happening at the Prosecutor General's Office at all. Still, I wish all that happening must faster and more efficiently.
The prosecution system must change itself.
By the way, the prosecution system is currently undergoing an audit financed by the Council of Europe. A reform plan for this system would have to be developed based on this audit.
– There is an opinion that the Prosecutor General's Office became a politicized body.
– Because the Prosecutor General must be a prosecutor, not a politician. My take on this has never been a secret.
A prosecutor cannot be politicized and cannot represent a certain political force. That's the way it is everywhere, and that's how it must be in Ukraine as well.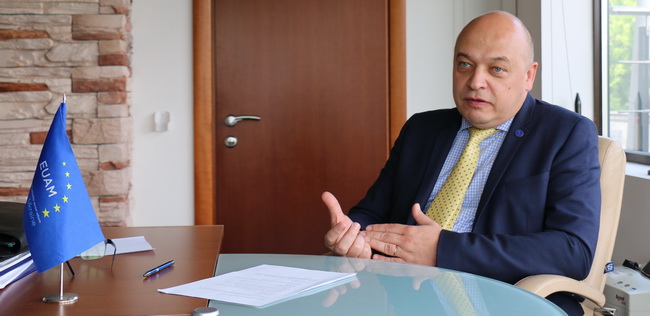 – Specifically, what complaints do you have because of Yurii Lutsenko being a politician?
– Just visit the Prosecutor General's Facebook page and take a look at his posts! You will find there a lot of details of criminal investigations which law prohibits from disclosing. The Prosecutor General must know it, because he is a Prosecutor General.
Is it normal when he posts details of Katia Gandziuk's forensic medical examination? That's unacceptable! Or, even though this story has long gone, when he makes public the names of NABU detectives working undercover?
– Sooner or later, a new Prosecutor General will take office. What would have to be changed first of all?
– This office must be taken by a professional of the highest rank who serves law, a person with high moral values who believes in these values and who can, so to speak, convince personnel, i.e. prosecutors working in his system, that these values are important.
The prosecution authority's coat of arms has the inscription: "Law, honor and dignity".
Therefore, the new Prosecutor General must, first of all, believe in that motto himself and take all efforts to persuade prosecutors to believe in it. That's when changes will come.
Surveys prove that the behavior of subordinates at any organization depends by 70% on the example shown by their superiors. That's your answer.
In addition, a Prosecutor General must be 100% professional jurist. Whichever position he held before that, a judge or a prosecutor, is a matter of secondary importance. However, he must be a leader and must believe in what he does.
– Won't the fact that a recertification has already taken place in the prosecution system be a problem?
– This case is different from the police, where recertification was organized… not very well. There were a lot of flops there; we spoke about that in an interview two years ago, and I explained back then that since that has already happened, the only thing we can do is to create a new culture in the organization. And Kniazev (Serhii Kniazev, National Police Chief – editor) is trying to do that.
The situation in the prosecution system is different. There was no full certification – for example, the Prosecutor General's Office did not get around to it.
– Does it need to be done?
– I think it does. All levels must be passed. That's why an audit is currently underway, and its outcomes must become the main document for further actions. One of these actions could be an in-depth, well-prepared recertification or a lustration system. Those who will work at EUAM after me and those who will work at the Prosecutor General's Office would have to clearly design this system to make sure that the results of certification or lustration cannot be appealed in court.
"The monopoly on violence must be held by the state"
– You said on numerous occasions that the National Police must change its performance evaluation system and that this system must be based on public opinion surveys: whether people trust the police or not. Why that has never been implemented?
– This year, the National Police launched a very extensive survey of the level of public trust. And the first figures that became available indicate that the society is not quite satisfied with the police's performance. That gives a lot of good arguments for changes.
– So, what needs to be changed according to these figures?
– For instance, the structure of the police must be changed, especially in small towns. There, the police force operates on the basis of reactivity principle, waiting for something to happen first and reacting to it afterwards. However, police actions must be based on proactivity principle: the police must take more active preventive measures. The very presence of a police officer in the street, not in a police station, already contributes a lot to reduction of the so-called "unqualified crimes".
Another point is the speed of the police's arrival to the crime scene. If you ask people whether they are satisfied with how fast the police have arrived to the crime scene or how fast they documented the incident, they will tell you "no". And that is one of the most important criteria of the police's effectiveness in EU states. On the other hand, internal procedures in Ukraine are so bureaucratized that the arrival of an investigative group takes a lot of time. So presently, we are suggesting the National Police to change that in a pilot region, in Kropyvnytskyi.
– Did you talk to the Interior Ministry's senior officials about the "national militia"?
– I have stated it publicly many times that the monopoly of the legitimate use of physical force must be vested solely in public institutions and it must be exercised only according to clearly written rules.
And if young men want to serve people, serve the society and the state, let them join the ranks of the police force, the National Guard, the Armed Forces. It's a wrong idea to create such institutions which use force against people.
– Did you convey this opinion to Minister Avakov?
– This is the opinion of the entire European community. All international institutions said it publicly more than a year ago.
– Did you tell it personally to Mr. Avakov?
– Yes, we spoke about it.
– So, he would have had to respond to it somehow.
– …Let's leave this question.
– Well, that's your right. Let's talk about reform of investigation system.
– In this case, we must talk about the effectiveness of the entire chain of criminal investigation, from the time of arrival to the crime scene to the final indictment or acquittal. In other words, changes in the police or the State Bureau of Investigation alone are not enough. The role of prosecutors and courts is also important.
What's lacking? Firstly, I can't say that the current version of the Code of Criminal Procedure is efficient. We made an in-depth analysis, and have already prepared proposals concerning its amendment.
We see queues of investigators near courts. That's unacceptable, it shouldn't be like that. Firstly, it demotivates investigators, and secondly, what effectiveness of investigation are we talking about? We live in a digital world, but in Ukraine, every action of an investigator must be confirmed by a judge and accompanied by a pile of paperwork.
The next issue is the effectiveness of courts. What an investigator should do if his district doesn't have a single investigative judge? Going by the book, he needs to travel to the regional center to the appellate court to get a permission to apply to another district court. Then, he needs to travel further 120 km to another district court to get authorization, and then come back to his place. What effectiveness are we talking about?
And the last point is the speed of hearing criminal cases. Very often, the proceedings are dragging out, and because of that, persons suspected of committing a serious crime and members of criminal rings are released from custody upon expiration of the maximum detention term.
"On this point, I quite agree with President Zelensky"
– Are there any positive examples?
– Surely! I can repeat many times: the way the police worked during the election is nothing but positive. After the election, Kniazev was "riding a white horse".
On the election days, we were at the situation centers in four cities in four regions, monitoring police actions during both election rounds, and our impressions were only positive. And the report by OSCE monitors only proves that.
Police officers themselves told us: "It was the first time in our life when we were working at an election strictly in accordance with law. There was a directive that only law is important". Trust me: they were overwhelmed with pride because of that!
Another positive example is the new approach the police employed when working at mass events. Where police officers believe in the new concept and where they implement it, it works, and it works just fine. A good example is Odesa. There are people there who believed in it and began implementing it last year. As a result, there were no clashes at all during the events of 2 May last year. The same picture is this year.
But unfortunately, there are examples of a different kind. There were instances when people made preparations, developed a plan, but someone from Kyiv phoned them and said: "That's it! No, let's change it, turning upside down".
– In other words, not everyone at the Interior Ministry believed in the reform?
– It's a pity, but things like that happen. That's life. It must be changed, but it takes time. And on this point, I quite agree with the President that things must be changed here (pointing to the head, like Mr. Zelensky during his inauguration speech). But that takes a very long time to change.
– What would you recommend to Mr. Zelensky and the future parliament?
– First of all, to act on the premise that time is running out. There is no room for postponements, for the election results showed that people want quick changes.
The President won with 73% of the votes, so he would have to work off this credit. He would have to make very difficult, revolutionary decisions. Our Mission is ready to help him with that. And our Mission is working, and we are ready.
– And what is in the President's hands? Only reform of the SBU?
– At the very least, he has the right to legislative initiative. He can initiate amendments to the Code of Criminal Procedure.
But most importantly, he can carry out changes in practice. A lot of documents were adopted during the past five years. He needs just to take them and start implementing them. At the same time, it is very important to convey the message to the smallest village, to ordinary people that changes are underway. For one of the biggest problems I saw during my three years in Ukraine is the lack of communication, both from top downwards and from bottom upwards.
Kyiv often fails to understand what is going on "on the bottom", and down there, they seem to be too shy to ask: how do we implement that, how do we carry out this law? This is one of the important problems that need to be solved.
Author: Serhii Sydorenko
Source: Evropeiska Pravda